A Guide to Luxury Shopping in Phuket, Thailand
18 November 2021
Phuket, Thailand, makes for a great holiday & luxury shopping destination because of its breathtaking golden beaches, lush greenery, clear blue waters, lively flea markets, endearing boutiques, and luxury hotels. Beautiful villas, hotels and resort accommodation accounts for Phuket's popularity as one of the world's leading beach tourism destinations.
However, beyond all of the things mentioned above, one of the features which makes Phuket a striking and enticing destination is the abundance of high-end boutiques and shopping malls. Aside from getting the chance to bask in its wonderful landscapes, food and culture, you also get plenty of opportunities to indulge in luxury fashion brand shopping. From luxury cars, luxury watches, and fine jewelry, Phuket Thailand has even more to offer. Its array of upmarket stores and shopping centers will surely compel you to indulge yourself!
Because of this, we have curated a guide that will help direct you to some of the best luxury malls and stores that can satisfy your urge to shop-til-you-drop.
Dubbed as Phuket's 'shopping paradise,' the Central Festival & Central Floresta shopping malls have almost everything you want and need. These shopping havens feature over a hundred shopping outlets and brands that sell a variety of different items from clothing, books, electronics, supplies, toys, souvenirs, edibles, and even accessories.
At Central Festival, you'll find yourself mindlessly spending the day away because of how well-equipped it is. Moreover, the place is also situated only a little outside of the center of town, making the location even more convenient. Finally, its huge four-floor premises will have you pacing and wandering through its interior to your heart's content.
Besides the shopping stalls and gallery, there's also supermarket and department zones. Here, you will see a massive food court that serves both fast food and Asian cuisines, which is a great place to grab a bite once you've exhausted yourself from shopping. You'll also be particularly impressed by how Central Festival boasts of its top brands ranging from luxury, household names like Armani, Estee Lauder, Diesel, Chanel and Calvin Klein. For more affordable options, there are also labels like Zara, Esprit, Guess, and Mango.
Central Floresta features a range of high end brand boutiques such as Hermes, Balenciaga, Louis Vuitton, Gucci, Alexander McQueen, Versace, Saint Laurent, Calvin Klein and many more! Beautifully complimented by a range of upmarket restaurants featuring a deletable range of Thai & international cuisine, you will not be short of somewhere to get your shopping fix!
Do you mainly have a taste for branded clothing? Look no further because Phuket's Premium Outlet can provide them for you. Premium Outlet is an open-air mall that is excellent for an ideal day out. Not only that, but it also houses approximately 300 international luxury labels that are spread along a gigantic 18 000 square meters. Because of this, the place also makes for a perfect destination for when you want to spend time with family because of the abundance of space where your children can run around. They'll also be thrilled at the number of toy stores in the area like Disney, Toy Story, Fisher-Price, and Ben ten.
You'll be delighted at Thai keepsakes you can find here, ranging from wooden artifacts, silk scarves, artwork, and cutlery, especially if you're someone intending to take home souvenirs or discounted wear. Apart from local brands, it also has everything from Lacoste, Adidas, Lee, Reebok, Pierre Cardin, Crocs, Nike, and more.
The Premium Outlet makes for a great stop since it's located on the way to the airport from the town center. Also, remember to avoid visiting in the afternoons as much as possible, since the place can get extremely sunny and hot.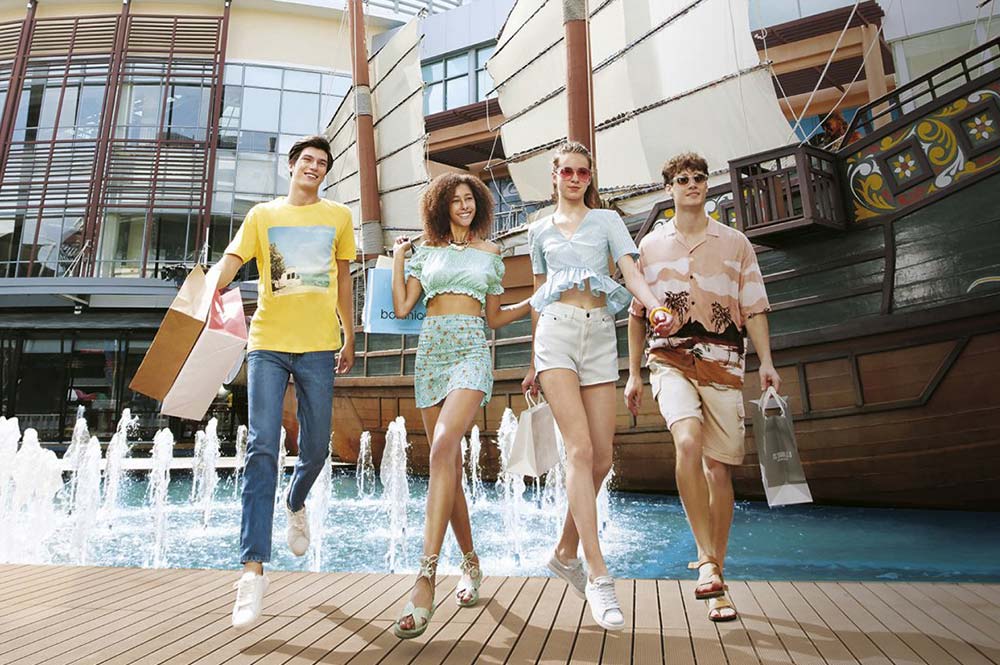 The Jungceylon Shopping Mall is a luxury haven and a popular attraction for both tourists and shopaholics alike. Housing over 200 stores that sell everything you can possibly need from shoes, cosmetics, accessories, and mobile gadgets, you will be impressed by how it still flaunts a wonderful, spacious interior.

Here, you can find department and supermarket stores, a five-screen SF Multiflex cinema, and a remarkable bowling alley. If you're into luxury fashion brand shopping, you can indulge well enough in esteemed names like Lancome, Polo, Estee Lauder, and Lacoste, among many others. After doing so, you can also opt for a nice massage at one of Jungceylon's spas.

Not to mention, this shopping destination also has some of the best ready-to-go food! So while you're here, you can treat yourself to some Mcdonalds, or maybe a cup of coffee at Starbucks.

Jim Thompson

Going into Jim Thompson mall will put you into an awestruck and dream-like state because of its interior design. If you're taking a trip to Siam, you surely don't want to miss stopping in at Jim Thompson. Being one of the most renowned brands in the Thai textile industry, you will find fine silk products and items like handkerchiefs, silk scarves, duvet covers, shirts, and trousers. Moreover, you will also be delighted at the luxury bags, furniture, and wallets, which are all worth your money.

With how it houses high-quality and high-end products, Jim Thompson is undeniably of the highest quality and is a must-see on your shopping trip to Phuket, Thailand.

Chandra Boutique

If you're looking for fine jewelry or luxury watches and accessories, Chandra Boutique is an experience especially for the well-heeled. It sells tons of beautiful branded and designer clothes alongside accessories — all provided at competitive prices.

Here, you can choose from a range of clothing pieces, including elegant kimonos, quirky bikinis, breezy dresses, or bright kaftans. Chandra Boutique definitely makes for a distinguished name compared to the usual clothing brands because of how unique and well-tailored the items are. There's also a selection of men's clothing in the form of dapper coats, linen shirts, and comfortable trousers.

Furthermore, the fabrics used in the clothing are all-natural, ranging from silk and cotton, which are offered in pretty, vibrant colors. The interior is also fairly accommodating because of its sleek, modern look accompanied by tiled floors and golden chandeliers. A lush garden located behind the boutique also helps amplify the place's overall beauty as well.

Turtle Village

This destination is probably one of the most high-end and luxurious addresses in Phuket. Blending huge names in the fashion industry alongside renowned global food, the Turtle Village is an excellent place for food enthusiasts and shoppers alike. The area is spread over two floors and is also airy and full of lush greenery — true to the nature of Phuket. Moreover, it houses prominent brands like Ferea, Esprit, Surfers Paradise, and Jim Thompson that especially entices guests further while keeping them satiated with sumptuous delectables.

Being situated a bit far from the town center, this place is a great escape for those who want to escape the city noise and the bustle of the crowd. Its shady palm trees and fountains exude a serene ambiance welcoming enough for all visitors, thereby adding to its exotic beauty.

The Garden

The Garden is Phuket's very first Luxury mall that is spread out across a whopping 2500 square meters. Impeccably stylish, it is also considered an ideal one-stop-shop if you're looking for fine jewelry since it is a haven for luxury retailers alike. Because of this, The Garden also provides its shoppers with a unique and unforgettable experience when it comes to buying pearls, gold, or silver.

What's also great about The Garden is that its facade and retail outlets are reminiscent of the USA and Europe and provides a space for tranquility through the coconut plantations in the background. While being quite far from the town center at approximately 17 kilometers away, The Garden makes for a pleasant shopping getaway day out if you want to bask in leisure with peace of mind.

Banana Walk

The Banana Walk is a modern shopping center located in Patong. The place is fascinating because it's spread across three massive floors and provides a range of items from clothing, accessories, coffee, wine, and fast food, among many others. More than that, the Banana walk also houses some of the famous brand names such as Paul Mitchell, iBeat, Coco, and more. If you're feeling like going for a beauty touch-up or a makeover, you also won't have to look any further since Banana walk also houses some hairdressers and plastic surgeons.

The place is distinctly donned with metal and glass structure, making it exude a futuristic vibe all while being eco-friendly at the same time. Banana walk is also a perfect destination for hanging out with friends since you can jam along to live music at the rooftop while drinking beer or playing golf with loved ones. Even if you didn't come to Banana Walk for luxury items, it's undoubtedly a great spot to unwind and relax.

Whatever luxury products and designer brands you are looking for, from very high end luxury fashion brands like Louis Vuitton and Hermes to iconic local brands like Jim Thompson through to International brands, Phuket has it all.

Experience the Phuket shopping scene for yourself by visiting The Thailand International Boat Show in Phuket from 12 to 15 January 2023, where there will be over a hundred exhibitors displaying, luxury fashions and clothes, cars, jewelry, watches, sailing boats, yachts, motorboats, and much more on display! Register here today to get Free Event tickets.